Systems
Systems includes System of Systems (SoS), Systems of Interest (SoI), Epics/ User Stories / Use Cases, multiple States definitions, Decision and Control Framework and Information modeling for DSA.
DSA Decision and Control Framework
Framework develop for DSA from ISA 95. This framework is a basis for understanding the various attributes which occur at different levels in the automation workflow. It enables mapping of onsite and remote applications.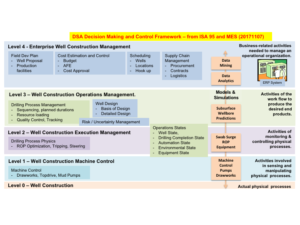 System of Systems view of well construction inside field development
This model, based on the INCOSE method, shows the Well Construction System inside the Field Development System. This map provides guidance for developing Systems of Interest that can deliver value within the System of Systems model. Further details can be read from the Systems Architecture section of the DSA Roadmap.